NORQAIN watches launched in 2018 and is a fully independent, family-owned Swiss watch company located in Nidau (Bienne) in the heart of the Swiss watch industry. Every timepiece is handcrafted with unconditional attention to detail and inspired by the essence of a "NORQAINER". The essence stands for authenticity, uniqueness and rebellious character trait for those who are not afraid to carve their own path in life. This essence is captured by the unique and distinctive "NORQAIN plate" which is on the left side of the case of all models which can be engraved with a personal message.
The essence of a NORQAINER is precisely what Founder, Ben Küffer built his company on. The 31-year-old has been in the watch industry since he was 19 years of age. Ben's roots and expertise in the watch industry are intertwined with Swiss watchmaking royalty via experience, family, and connections.
Before founding NORQAIN, Ben worked for over 11 years as a Brand Manager for the legendary watch company, Breitling. From a family perspective of watch influence, Ben's father, Marc Küffer, has more than 45 years of experience in the manufacturing of Swiss luxury watches. Marc is on the Board of Directors for NORQAIN, having before also been a member of the Board of the Swiss Watch Industry Association for more than 25 years. Shifting to connections, Ben's ties in the watch industry only deepen as Ted Schneider, the son of the watch legend Théodore Schneider, is also on the NORQAIN Board of Directors. Théodore Schneider is the longtime former owner of Breitling. NORQAIN's all-star board of directors also includes Mark Streit, a Swiss ice hockey legend and Stanley Cup winner.
The young generation that Ben is a part of is known for drive, passion, entrepreneurial spirit and a forward-thinking mentality. Ben is the epitome of these characteristics and success in this age group. It was in 2018 that Ben knew it was time to bring boldness and flair to reinvigorate and shake up the luxury Swiss watches industry. With his new vision and all-star team, the company set forth to undertake the tall task of earning its place as a top dog in the Swiss watch industry among the Juggernauts.
In its second year, the company is already making waves in the industry. While new and bold, the company stays true and deeply respects the pillars of Swiss watchmaking. This being, reliability, quality, and trust that have earned Swiss watches legendary status throughout all corners of the world.
Ben sat down with Clarence Paller, Director of Public Relations and Corporate Partnerships for LGFG Fashion House to tell his story.
Tell us about NORQAIN watches and what makes it so unique?
We are among the very few remaining family owned Swiss watch companies. Over the years, the industry has been changing rapidly and you will find watch companies packed on the world's most affluent and well-known shopping streets. With the industry growing the way that it has, companies have ever increasingly become much more financial and involved with financial groups, etc. Thus, taking away from the essence of what fine watchmaking is all about. This leaves very few reputable watch companies remaining who just have that passion for watchmaking.
At NORQAIN, the main things we know are how to do produce and design watches. We have a huge passion for Swiss mechanical watches. I believe that our company is fighting back against the digital watch. We want to increase the emotional value of a mechanical watch, and allow people to personalize the watch. This is definitely something that I believe in.
In terms of product, our NORQAIN plate, which is positioned on the left side of the case allows people to personalize a watch and put essence and meaning into it. When people wear our watches, they carry with them their sentimental message wherever they go.
Describe your line up of watches and what are some special features about the watches in your line up?
There are three collections, Adventure, Freedom, and Independence which are available for men and women. I worked on the design for each line personally. All lines are exclusively equipped with mechanical automatic movements.
As the Adventure name implies, it is a sports collection. I love sporty watches myself, so it was clear that we had to have a strong sports line up, especially with all the athletes that we are working with. The case of these watches is robust and relatively slim compared to other sports type watches. This is something we were very particular about and worked diligently to achieve and this is what makes these watches really stand out and be unique.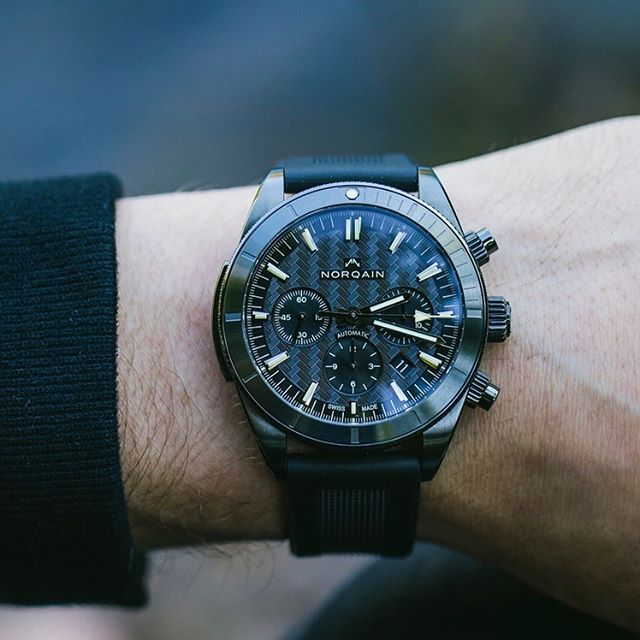 The Freedom collection is inspired by the 1960s. A lot of thought went into the vintage straps, designed with the unique "NORQAIN stitches", followed by the box type glass with its origin in the 60s and the reduced dial with hand-applied indexes. At the back of the watch is our logo which is also a Swiss mountain.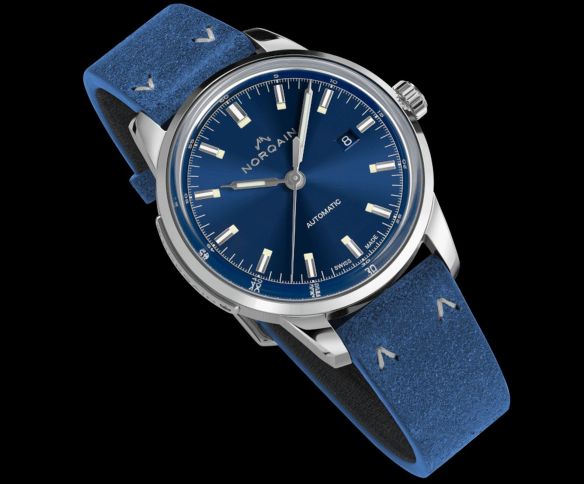 The Independence line is a limited-edition watch that we launch every year.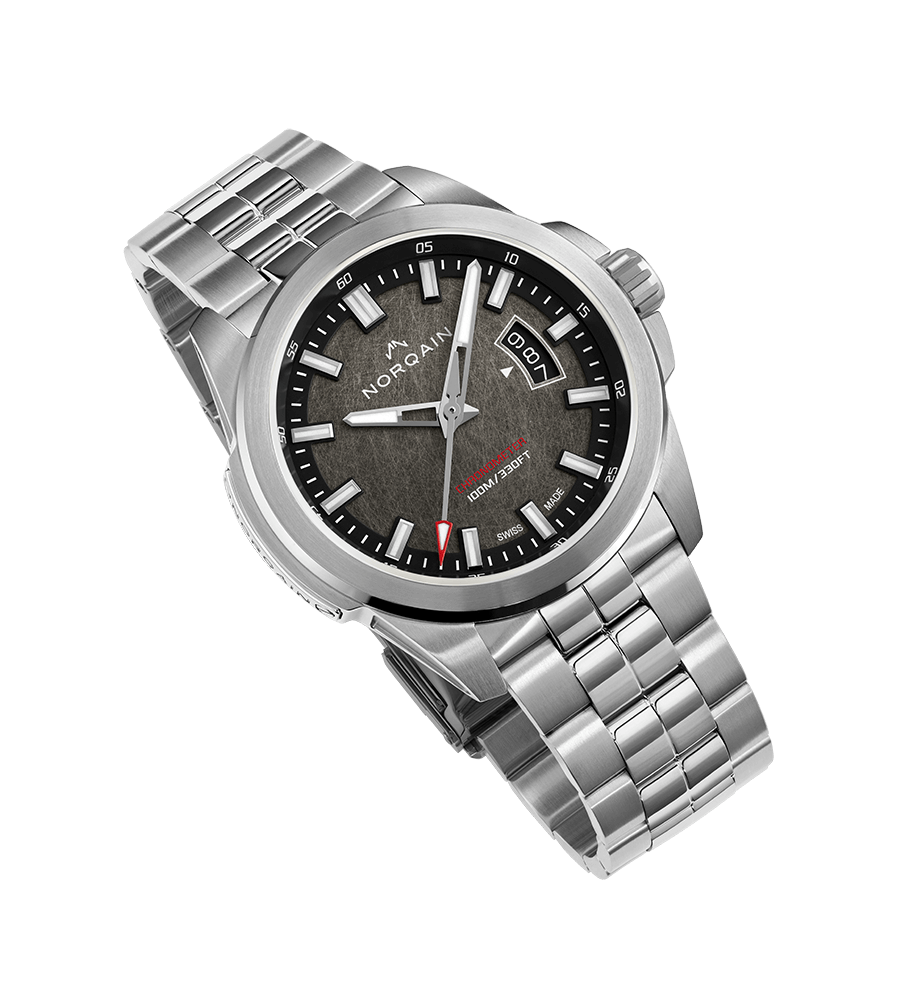 What inspired you to start NORQAIN and how has it grown, now its second year?
I founded NORQAIN in March of 2018. I was working for Breitling before that for 11 years. In April 2017, Breitling was sold to a private equity fund, CVC Capital Partners. I knew at that moment that I wanted to do something family-wise again. My father also had a similar experience. He was on Board of another very famous Swiss watch company, Ulysse Nardin, that also was family owned when that company got sold. We both experienced the same kind of feeling and knew we wanted to stay in the family roots of Swiss watchmaking. From that, NORQAIN was born and we are now in our second year. We had a great entry as we were a part of the NHL all-star game for the 2018/2019 season and made watches for all the players who were a part of that game. That was very good for us. This was made possible by Swiss hockey legend and Stanley Cup Champion, Mark Streit who is on the Board of Directors. He has been helping me a lot to grow the company. Mark and I flew to Toronto in November 2018. We were on a tour to convince partners to team up with us to display our brand for the start in January 2018. That is when we connected with L'oro Jewelers, which is based in Toronto and they instantly said they would take the branding for three stores in Toronto.
How did you get involved with the NHLPA and end up making 44 watches for all the NHL all-stars for the 2019 All-Star Game?
We had a meeting with the NHLPA, thanks to Mark Streit. At the time there was actually nothing actually on the agenda but the meeting turned out great. Chris Campoli, he was one of the representatives of the NHLPA in the meeting; he played for EHC Biel, which was one of our local teams here where I live and where I am producing the watches.
Naturally, there was good chemistry at the meeting and someone just said, "Guys, how fast can you produce watches?" I was kind of being positive about it, which is what you have to do. And then he said, "Well, can you produce watches for the All-Star game?" This was mid-November in 2018. The NHLPA representative continued, "Ok, if you can, the all-star game is in January, in San Jose, and you will get the opportunity to work with all the players. From that day on, we just did everything we could to produce those 44 NHL NORQAIN watches. We personalized the plate for each one of them and delivered to the players all the watches.
One moment that really stood out for me was the Saturday of the All-Star weekend. Sidney Crosby came to me and picked up his watch and then he saw the one I was wearing, the Freedom 60 Chrono Auto – Black Dial and he said, "I love that one too." At that moment I asked, "would you wear it? To which he responded "Yes". Right then and there I just gave it to him without question. It is that that kind of moment when you realize what's actually going on that future Hall of Famer, Crosby takes your watch off your wrist. So, that was very special indeed.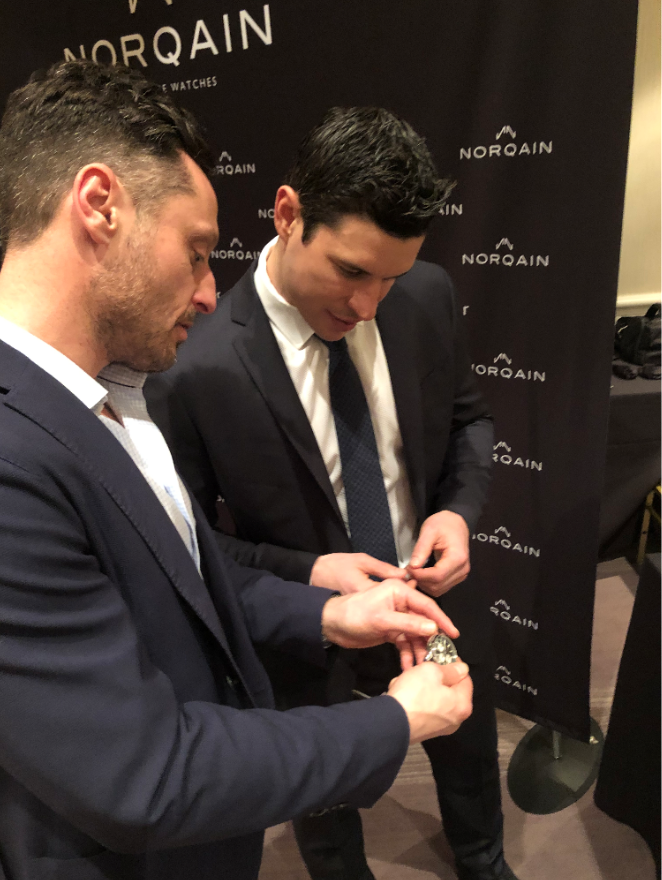 As for other NHL players wearing the watches, I know Sebastian Aho is always wearing the watch. I know that because Nino Niederreiter plays with him in Carolina, and I have some feedback from. Colorado Avalanche top player, Mikko Rantanen is wearing the watch. From the San Jose Sharks, Brent Burns is wearing the watch. I know Crosby is wearing the watch and he also bought a watch for Evgeniy Malkin for his 1000 points, with an engraved plate commemorating that achievement, so, that was very cool for us.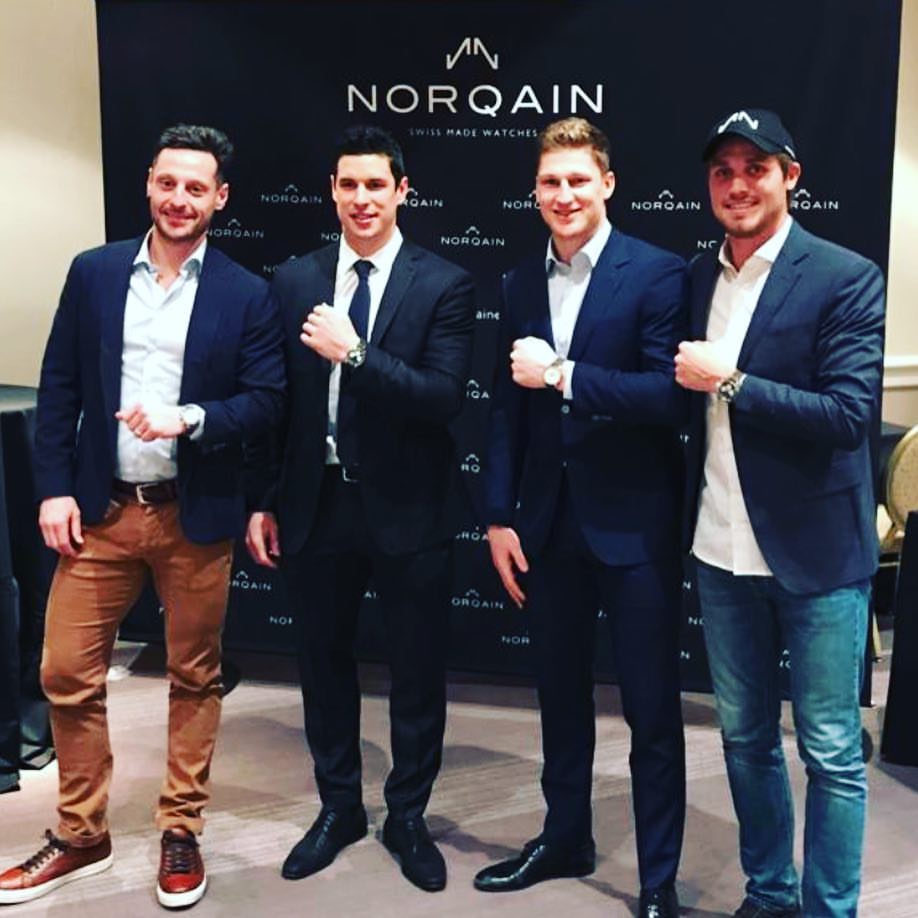 What does a fine watch say about a man, his attention to detail and why is attention to detail important for status and success?
In general, a watch is often linked to some kind of story. Especially with a mechanical watch because it is considered a luxury object. In today's world, we all know that there are many gadgets and smartwatches that you can wear. In the era of tech, a mechanical is actually a kind of statement? It conveys the message that you appreciate the design, mechanics, and craftsmanship. It is still in my opinion, one of the very few accessories that men buy and that are visible. Some men will wear an old gold neck chain, but it's often hidden. Then you have guys that have bracelets, but that is also rare. So that leaves the watch as really one of the very few pieces of jewelry that men have. So, when I see a mechanical watch, I tend to think that there must be a story behind that watch – perhaps, it was for a job promotion, or was it for an emotional event like a wedding? Or was it a gift? I think that mechanical watch is a huge gift market also because it will stay with that person for a very long time, perhaps their whole life.
Describe how to pair watches with suits, wardrobe, events, and lifestyle?
I love suits. Paring a watch with a suit, in my opinion, is all about color codes. Stainless steel watches work nicely with almost every suit. Another pairing that would really stand out is a watch with brown leather straps paired with a blue suit. In general, I think it's all about finding the right style that expresses yourself. For me, I have six or seven different suits and every morning when I choose my wardrobe, my watch will have an influence on the suit I wear that day. Watches paired with suits, the two just belong together and really convey a lot about a man. Sometimes you see a guy who just forgot to put the right watch for today's suit, and you always notice that in a not positive way.
How do you market for both older and younger groups – answered by Brian Keene, International Marketing Manager at NORQAIN
I think in general what we are trying to do is we are trying to engage on a personal level with the audience. We are doing a lot of digital marketing and speaking with our customers over social media, like Instagram, Facebook, and also LinkedIn. Currently, we are working with this Swiss athlete, Andreas Steindl who is a mountain climber. What we'll do this summer is we are going to organize the Matterhorn Challenge. We are trying to spread over social media this challenge where people will have an opportunity to climb the Matterhorn with this athlete. The idea is that we are a brand that wants to be known for offering experiences. We live in a world where spending time outdoors has become an actual luxury. Thus, creating experiences and connecting to adventure is what people long for. Time is the most valuable asset we have as humans. I wanted to make this the brand's DNA and say, "Listen, freedom, adventure, independence – This is what this company lives by."
How do you overcome adversity and reinforce a winning mindset?
For the last ten years, I would say that I was pretty fortunate. I was working at one of the strongest watch brands in the world, Breitling. Failures would be considered as not achieving a yearly target. I felt so powerful working for an industry giant in the watch sphere. The brand you represent is always among the top three brands and has a strong presence in any fine watch store. What happens is that you associate with the brand, the power, and prestige that comes with it. This can create an elevated sense of self. This all changed when I started my own company. It was at that moment where I learned the most and gained a valuable lesson. Starting my own company and now coming to stores with nothing except an idea, a vision, a dream of bringing my watch company to the fold. I visited all the retailers before actually having a product and before having a brand name. I wanted to find out which price range should I go for and figure out what the retailers expect. It was also at this stage in the process, that I noticed that a lot of people were giving me cynical advice. They would say, "be careful, it's going to be extremely difficult." It planted doubt in my mind. At the end of the day, there were times where you go home and you are by yourself. Those doubts and cynicism can creep in. You start ruminating on the feedback and "advice" people give, the "Oh, it's going to be tough. Are you sure? Have you really thought about it?" It was in these kinds of moments where eventually I just sat down and said to myself, whatever happens, happens. I have to stick with my decision, and I have to execute it even better than what I planned to do. That is exactly what I did. In the end, learning out of such experiences may be a tough thing, but can be overcome when you let go of fear and doubt.
What is the next step for NORQAIN to grow as a brand?
The first step is to firmly establish the brand in the market. Right now, it is about understanding sales and our demographics. That's why I want to take every opportunity to engage with people and have them understand the motivation is for our brand and what it represents. I would like to establish NORQAIN as a brand with values and for this to resonate with people. This is a fundamental part of our DNA. Then the next step is to grow the brand to a certain size.
What is the legacy that you are trying to build?
I think that NORQAIN should always be tied to people enjoying life and challenging themselves in life, sport, and career. It should also stand for taking a moment to step back and enjoy the moment and appreciate it. I put my personal values into this brand and built it from those values. That is why I want this company to always be family owned.
As a company, our leadership team always talks about world adventure, freedom, and independence. These are the brand's core pillars. These three words also define what I am about and what is important to me. It is these three words that I want to resonate with our customers and this is starting to come to life. I have some first pictures now coming in of people who are climbing a mountain with a hashtag #NORQAINER or just doing things outside and tagging, @norqain. I think that's the nicest moment for me because I feel like people actually identify with what I am trying to say and with the brand. I am so excited to see the growth of the brand and all the NORQAINER experiences happening all over the world.