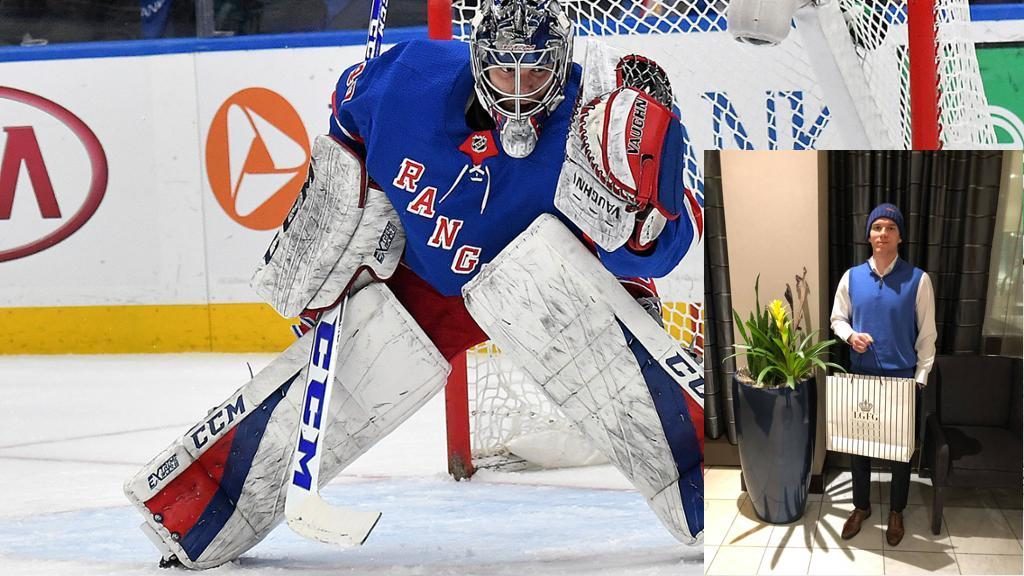 Clarence Paller, for PHPA.com | Professional Hockey Players' Association
Alexandar Georgiev is feeling confident heading into training camp. Having spent the offseason doing intense training, one of the top goaltending prospects for the New York Rangers is coming to camp in top physical shape and drawing on his experience from his first year of professional hockey in North America. Having played 47 games split between the Hartford Wolf Pack and New York Rangers last season, the 6'1 keeper is looking to pick up where he left off last year and solidify himself as a top-tier goalie who can be called upon at any time.
Georgiev was born in Bulgaria but soon thereafter moved with his family to Russia. At five years old, his parents enrolled him in a hockey school not far from where they were living. Georgiev credits his parents as being the greatest influence on his career. "My parents wanted me to become a professional athlete and youth hockey in Russia was at a good level. My parents spent full days taking me to practices and games. They also signed me up and took me to additional independent training." His parents' vision would become a reality as Alexandar progressed through the youth system in Russia and later moved to Finland to play Junior.
Georgiev also attributes his development as a player to his first trainer in Russia, Slava Litvinov who " worked with me to develop an exceptional skating technique that to this day makes me stand out compared to other goalies." Just as instrumental is goalie coach Fredrik Norrena. "I have been working with Fredrik since I was 10 years old every summer. He invited me to play for TPS in the Finnish SM-liiga where I went to play when I was 18."
Georgiev fondly recalls the memories from his junior career playing for TPS. "In my first year, we won the Finnish Championship. There were very strong teams against us in that tournament, and those teams had players who are now playing in the NHL in top roles."
The pinnacle of his junior career though was winning the silver medal for Russia at the 2016 World Junior Championships. "We had such amazing players on our team, a coach who was able to bring chemistry and unite us to achieve our goals. It is a wonderful feeling and an incredible honor to play for your country. You have the whole country supporting and cheering for you. We didn't end up winning gold but the experience our team gained there was invaluable for our development," said Georgiev.
It was during the 2016-17 season when Georgiev was discovered by the New York Rangers. "In the European top leagues, every game is being scouted by at least one or two NHL scouts. The Rangers scouts liked my game each time they watched me play. After the end of my 2016-17 season, they invited me to the Rangers development camp in the summer. Then after coming to the camp and showcasing myself very well, they offered me a contract. To this day, that is one of the best highlights of my career receiving the message that I earned a contract and a chance to play in the NHL."
The next season would mark the beginning of Georgiev's professional career in North America. He was assigned to the Rangers' American Hockey League affiliate in Hartford, and although it wasn't easy, he adjusted to the North American style of play. "Hockey in the AHL is different and not because the speed is faster, or the ice is smaller; you get used to that relatively fast. The biggest difference is in the hockey itself. In the AHL, it is very offense oriented and players shoot from anywhere and at any moment. This was a big difference coming from a Finnish team that was very defensive where I didn't face more than 20 shots a game. That said, there were elements of the transition to North American hockey that came relatively easy such as communication with my defensemen. I can speak English well and my teammates in Hartford were easy to work with and took me into the team and really made the adjustment very smooth."
After impressing the Rangers brass throughout his rookie season, on February 22nd, 2018, Georgiev was called upon to make his NHL debut with the Rangers in Montreal for an original six matchup. He recounts, "the day before the game with Montreal I was informed that I would start. Right away I messaged my family and friends to let them know. I prepared for the game like I would for any other game so as not to turn it into something unusual or different. I didn't feel nervous or anxious probably because I waited so long for that moment that when it came I was just so happy to finally play in the NHL. When I arrived at the Bell Centre, I remember looking at the jerseys hanging from the rafters and realizing I am about to play in the NHL. This is a remarkable feeling; one you dream about your whole life. It is even a bit hard to believe that you are there and going to play. The arena was sold out and you feel like you are in a totally different atmosphere. After my first save things started to feel much easier. You just enjoy every second of the moment." Although the Rangers lost 3-1, Georgiev made an impressive 38 saves.
Throughout the 2017-18 season, Georgiev played 10 games in the NHL with the Rangers, posting a .918 save percentage and 4-4-1 record. Of note, his first victory came on March 3, where he stopped 35 shots as the Rangers defeated Connor McDavid and the Edmonton Oilers 3–2.
The Rangers organization has been helping Georgiev in his development in both the NHL and at the AHL level. "Rangers goaltending coach Benoit Allaire has played a huge role in my development. It is a pleasure to work with him. He is always positive. We often watch tapes together and we analyze the game from the goaltender's point of view. I also benefit from my time around Henrik Lundqvist. He really supported me in my first game with the Rangers. It is great to watch how he conducts himself on the ice and in life, he is a true professional and a class act. There is so much to learn from him. The role of the AHL is also instrumental for my development. Most goalies, in order to make it to the NHL they play in the AHL first. This is a great school on how hockey is played in the NHL. I think it is very important for goalies to develop in the AHL."
During his first professional season, Georgiev was also very impressed by the Professional Hockey Players' Association and the services and support they offer AHL and ECHL players. "The PHPA sends us information quite frequently, they give us updates about the league, lots of documentation about services they provide and how to access them. They support the players as best they can and you can really feel their presence, especially for me having come from Europe where players don't have a union. They help not only for things related to hockey but for things players go through outside of hockey and off the ice which is very important to a lot of players."
As he builds upon his first season at the professional level, Georgiev will continue to hone the skills that define his playing style such as his advanced goalie skating technique and speed coupled with his ability to deftly read plays by identifying the kind of shot and where players will aim for. "I try to not fall into the butterfly right away like most goalies do. I first track where the shot is going and act accordingly."
He also works to model his game after top goalies in the NHL. "I follow the goalies who are excelling in the NHL and I take something from them that could help me in my game. Particularly what stands out for me is that there are a lot of goalies that are shorter than me. I really pay attention to what makes them successful despite having less height. I also model my game after Sergei Bobrovsky who has already won two Vezina trophies. In my opinion, he is one of the very best goalies in the league."
Georgiev also provided perspective surrounding how he reads players and knows when to challenge or stay deep in the crease. "As a goalie, when you read plays and decide when to challenge or stay back in your crease it has to do with the attack that is coming at you. If the player doesn't have a chance to make a pass then I try to always challenge, cut the angle and give him nothing to shoot at. I also try to read the type of player themselves. If Ovechkin is barrelling down then most likely he will shoot, so it would likely be a good idea to come out and challenge him. The way you set up for shots all boils down to being able to read plays and players in that exact moment. There is no structure for a goalie that in one situation you play this style and in another that style. A goalie always must read the play, and instantly know what options you have to stop the opposing team's attack."
One aspect of the game that is particularly important for a goalie is the battles and screens in front of the net. "All teams are trying to screen goalies because they know if a shot is directly on a goalie unobstructed then it will most likely be stopped. I emphasize working on screen plays in practice and being able to see around the screen. The key is to see the moment right as the shot is released, that is the most important. Even if you don't see the puck in trajectory, once it is released if you see the start of the shot then you can react if its tipped or make a positional save through the screen."
Being in the right headspace for a goalie is key and there are times when things don't go as planned, like a bad goal, getting pulled, or not starting for consecutive games. Georgiev explains how a goalie has to have a short memory and stay positive and focused at all times. "When you play your whole life as a goalie you take everything in stride. It can be difficult to stay positive when games don't go well or you let in a goal you wish you had back but at a professional level it is required of goalies to be able to overcome these things and quickly rebound. You have to concentrate on the next shot and not think about the one previous. If a goal went in so be it. You can't change anything about that. Only after the game can you go in and analyze the game and the shots that beat you. From there determine what you can do for next time and what you can work on further. In the game you can only be in the moment."
There are high expectations on the Rangers this year, with a new coaching staff and aspirations to get back into the playoffs. Ahead of his second season of pro, Georgiev is ready to do his part to give the team a chance to win and continue to develop into one of the game's elite goaltenders.