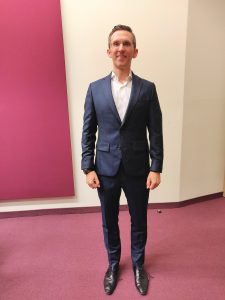 Here is Martin Neisen from PwC Frankfurt looking sharp in his new LGFG FASHION HOUSE technical line suit.
He is dressed for success and ready to have solid weak ahead.
Remember, "You can have anything you want in life if you dress for it". Edith Head
Martin's LGFG FASHION HOUSE Executive Clothier is Imbi Helm.
#gentlemanstyle #outfit #stylishmen #clothes #style #outfitoftheday #fashionista #mensclothes #gentleman #designerclothes #fashionstylist #classy #businessman #man #fashion 
#mensfashionpost #menwithclass #menswear #fashionformen #men #fashiondesigner #classymen #fashionmen #clothing #classyandfashionable #mensfashion #menstyle #menwear #suitup #businessmen