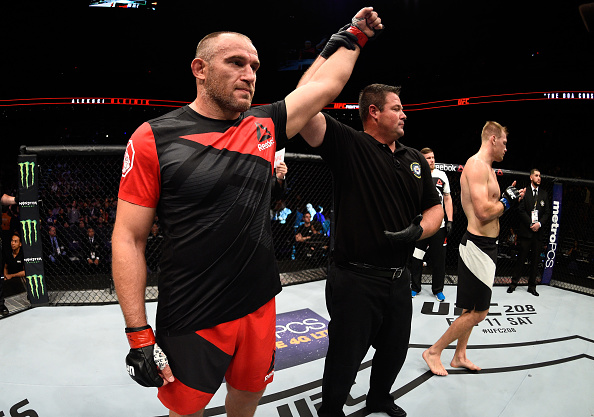 Alexey "The Boa Constrictor" Oleynik is as tough and strong as they come, standing at 6 foot 2 and weighing 235 pounds. He is a force to be reckoned with, competing in the Ultimate Fighting Championship (UFC) Heavyweight Division. He hails from Russia and possesses over two decades of MMA experience to draw from. His signature style is a blend of Japanese Jiujutsu and Russian Combat Sambo.  In the UFC he has taken down some of the best including Jared Rosholt and Mark Hunt and he has done so in spectacular fashion, earning him four "Performance of the Night" awards. To add to his glory and legacy, he is the only fighter to win a UFC fight via Ezekiel choke and has done this incredible feat twice. Oleynik also holds the record for most Ezekiel choke wins in MMA competition, with twelve. The amazing thing is at 41 years old feels he has a lot more in the tank and focused on achieving even greater heights.
"I think there is still a long way for me to go to reach my pinnacle. I always aim to improve and modify my technique a bit. There is no staying in one spot, that is unacceptable. I know this to be 100 percent certain."
As of February 18, 2019, Oleynik is ranked #9 in official UFC heavyweight rankings. Now he is poised to take on another distinguished and proven name in the UFC Heavy Weight Division, Alistair Overeem. The two rugged veterans will go toe to toe this Saturday, April 20 in St. Petersburg, Russia.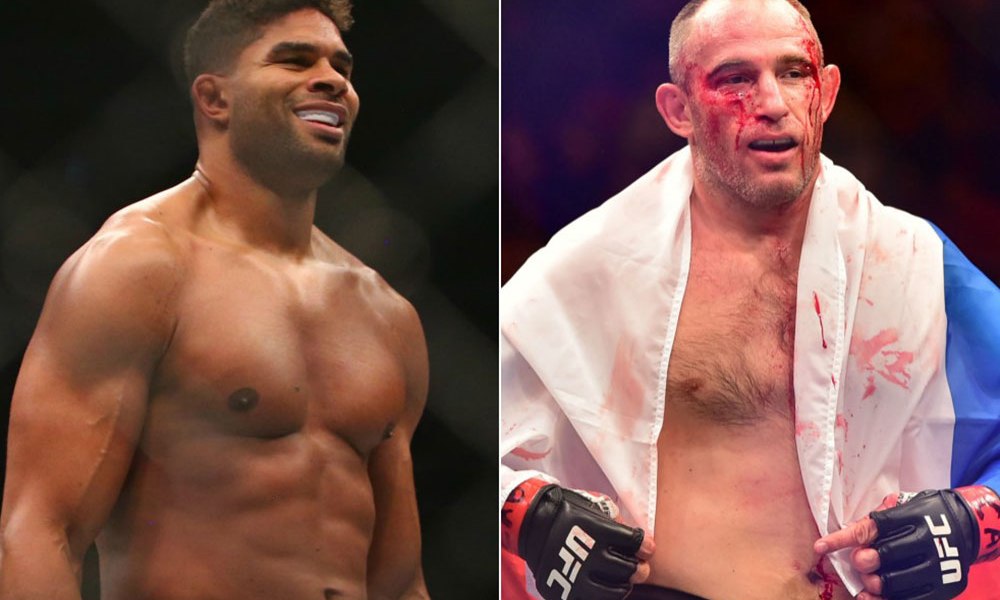 Aside from being a fiercely dedicated competitor, he is just as devoted to his family. What really stands out about him is that he is a man of intense hard work, patriotism, family, and values. His spirit is as tough as his mighty frame, coupled with humility and kindness. He is not only a world-class athlete but a world-class gentleman.
Oleynik sat down with Clarence Paller, Director of Public Relations and Corporate Partnerships for LGFG Fashion House to tell his inspiring story.
When did you start fighting and describe what is your fighting style?
I began training MMA in 1996 which seems like the distant past now. I first came to the gym at the start of 1996 and by November of that year, I had already competed in my first three fights. Back then it was not MMA as we know it today. In Russia, at that time it was called fighting without rules. At present day, I have been fighting already for 22.5 years
My base is Japanese Jiujitsu that I have studied and mastered over the years. On top of that base, I combined Russian Combat Sambo. The result is a symbiosis of the two styles that I use to compete and win bouts. For me Russian hand-to-hand Combat Sambo is when you can physically apply any technical actions from any kind of martial arts whether it be karate, wrestling, boxing, kickboxing, etc. and implement any form necessary to beat your opponent.
What are your greatest attributes as a fighter?
At the present moment, my greatest attribute is likely my experience. A lot of fighters have a desire to win the fight by points. This is not my style. I have been in this sport for many years which positions me to win fights by not only putting opponents on their backs. I prefer to finish the fight by squeezing the opponent's neck or other vital organs and forcing the opponent into submission. Hence, my nickname the "Boa Constrictor".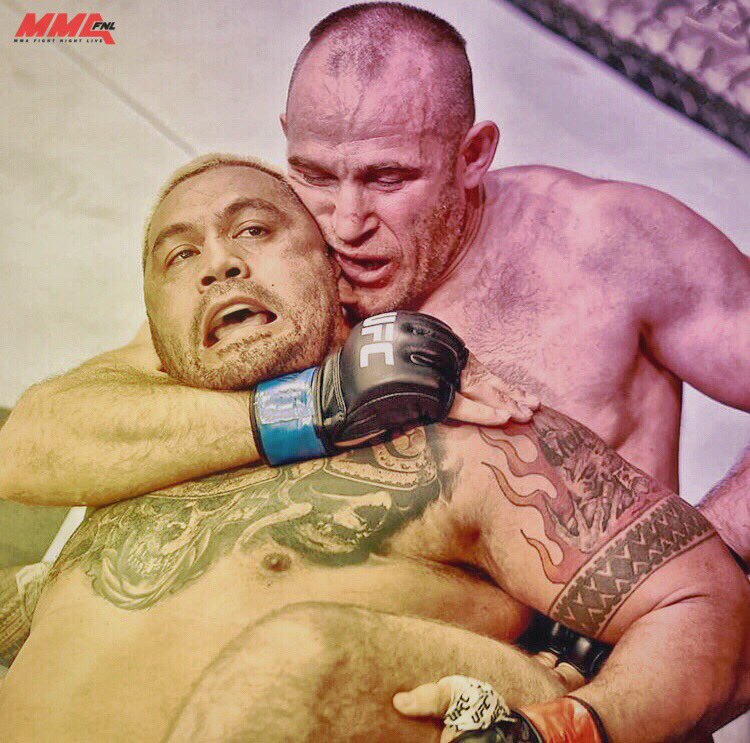 Where is there still room for you to improve as a fighter and how are you working on those areas?
I think there is still a long way for me to go to reach my pinnacle. I always aim to improve and modify my technique a bit. There is no staying in one spot, that is unacceptable. I know this to be 100 percent certain. This applies to everyone; we must all push forward and build on our foundation. The only constant in life is change.
Describe the feeling of patriotism and pride fighting for and representing your country.
I don't follow some crazy blind patriotism; I am just proud of my homeland. It is an honor to head out to the ring under the flag of my country. I can't nor do I want to come out under some other flag. My homeland has thousands of years of history. Russian history is known the world over, and not just 20,30, 50 years ago but was known 100,200, 500, 800 years ago and longer. Russia carries with it an enormous history and strength.
Patriotism means that you put the results of your hard work into your country, whether it is music, science, art, or like me in sports. To elaborate, I represent my results and do it under the flag of my country on the world stage. This for me is patriotism. Roots are impossible to forget about and can't be left behind even if a person moves away to somewhere else, etc.
Patriotism also means to love your homeland. This does not mean that other countries and nationalities should be oppressed. Nor does it mean other countries and cultures are not worthy of something else to be proud about. Patriotism is calm respect of your country and the understanding that you are a part of this one big whole.
Describe the Russian spirit of Bogatyr (Russian Hero) and how this spirit makes you stronger and ready for anything?
Apart from great physical strength and being a worthy male, for the most part, it is the strength of spirit. An unbroken spirit that will not surrender and will not waiver before temptations such as attraction, money, threats, etc. This is the Russian hero, where the strength of spirit is first and foremost. I think I am a strong enough man. I understand that there are a lot of strong men out there. It is the strength of spirit that differentiates opponents on the battlefield and decides the outcome of the battle. As your limits are tested, so is how much you believe in your strength and how much resolve you have not to retreat or surrender. The unwavering will to carry on is the strength of the spirit and what makes the heroic qualities.
Comment about the mental side of projecting fear onto your opponent, something Mike Tyson was incredibly famous for. What do you do mentally in during fight that helps set you up for the moves and strikes to win?
Honestly, in that regard, I don't do anything. I am more Russian than American style. Russians behave themselves fairly reserved and closed off. We tell ourselves, 'We will show our opponent in the ring who is superior.' We don't say anything or display some kind of antics in the press conferences before the fight. We don't do these kinds of loud displays because after the fight it would be quite sad and embarrassing to lose after all that boasting and antics. If you can't show yourself well during the fight then why would you say, "I am going to crush you" before the fight?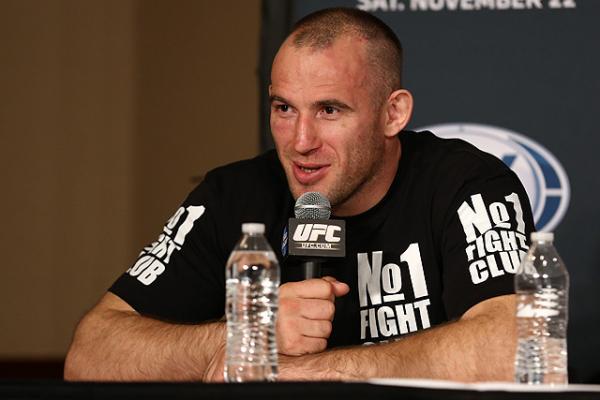 You were the first person to bring the Ezekiel choke to the UFC, and beat two top opponents with performance of the night you currently hold MMA record for 12 Ezekiel chokes in your career, describe that accomplishment?
The Ezekiel choke was taught to me 20 years ago by my Sensei in Jiujutsu. I have used it many times in my fighting history. Before the UFC I used it 10 times and, in the UFC, I used it for the 11th and 12th time. The maneuver is unconventional as not many people know of it and apply it. That is why it creates such a hype when it is done. There is nothing really more to say about it than that.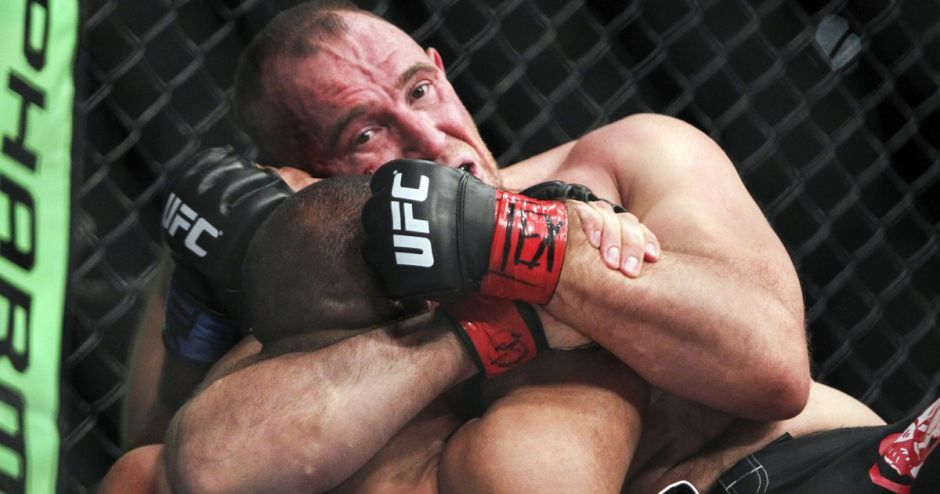 How do you come back from defeat? You lost then you came back and had two performance of the night wins. Describe that feeling of redemption and how do you set your mind to make it possible.
It is all about professionalism. I know what I do and for what reasons. I compete for sport, my family and my homeland. I understand that I am fighting against the same kind of person like me, a person who gave many years of his life to the sport. He is just as dangerous to me as I am for him. I understand that I can lose. I really don't want that outcome. I always apply all my strength, experience and will power to win. In the case of a loss, you have to rise up again and show again to your fans, family, and country that you are capable to come back after a setback.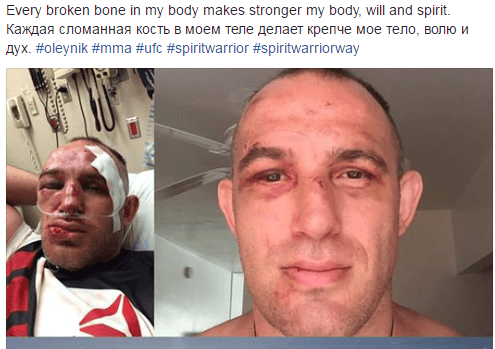 What were some of the biggest challenges you faced in your career thus far? And how has challenges and obstacles made you better?
There are a lot of hard moments in my career. Every training session is a kind of hardship. After the training session, you are sore and in pain. A bruise here, a bump there, muscle pulled or strained, etc., the list of injuries goes on. I know that I just have to keep pushing through; that I have a fight upcoming and I have to keep working. I have to complete the training plan no matter what to be able to step out into the octagon for the fight. These are the everyday difficulties of a fighter. We all face our own hardships, always and in everything. I understand that this is my career, my work and my chosen path as a fighter.
What role does your family play in your career and success?
At first in my career, I wanted to prove to myself. Then I wanted to climb the ladder and get a Champion Belt, a Title, recognition, and so on. I have achieved all these things. To a great extent now I work for my family. This is my profession and I earn money through it to provide for them. I understand that the way I sleep, eat and train is really crucial to the wellbeing, development, and success of my family.
When you step into the Octagon, describe the feeling that goes through your mind right as the match is about to start.
There are no feelings anymore at this point in my career. The faster it starts the better. At the moments leading up to the fight, it is already unbearable to keep yourself in such a crazy wound up state. You think to yourself, 'In 10 to 20 minutes everything will be over'. Lots of people say, 'You know your fight was only a minute and a half, three minutes or even seven minutes. Such a small amount of time to receive such a large sum of money, 10, 20 or 100 thousand. That is easy and fantastic."
No one sees that before these hard-fought minutes that I worked tirelessly for the past three to four months, trained two or three times a day and worked myself to the maximum. I mentioned this, all the hardships of bruises, breaks, strains, pulls, fatigue, etc. You are at the edge of what is humanly possible. Now take into consideration a long career like mine, month after month of this, year after year, the enormous toll it takes. I have for over 20 years been through this grueling regime. That is why it is not right to say, 'That I only fought for a few minutes and it is very easy.' No, it is excruciatingly hard, imagine being in the gym 4,5,6,7 hours a day training over a long duration of time leading up to the fight. So much energy, blood, sweat, and tears go into it. This is the hardest part of being a UFC athlete.
How do you handle the intense pressure of the octagon and not let the millions of fans, media and headlines get to you?
On the one hand, I lean on my experience. On the other, I already know what I need and don't need that affects my preparation, mood, and energy leading up to a fight. There are some things that I decline altogether. I say, "Sorry guys, I won't be doing this". A couple of days before the fight I give my wife my phone so I won't get distracted with any text messages or anything else. On the day of the fight, I don't give interviews and try not to take photos or have any contact with fans either. I tune everything out before the fight.
How does a fighter prepare for an opponent, how long is the training process leading up to a fight and do you adjust for each opponent?
It depends on the opponent, either putting more emphasis on the opponents striking technique or on other elements of MMA fighting. It takes about three months to prepare before a fight. Once fully prepared I just do CrossFit, work on striking techniques, groundwork and individual work.
Who are the biggest opponents you need to face and beat to get to the top and ultimately to the Belt?
My biggest competitor is myself. This applies to everyone, we are always competing against our weaknesses, laziness, excuses, etc. When we overcome our own barriers is when we achieve great things. That is why I do all I can to overcome these hindrances and this ties into the strength of spirit I touched on earlier.
On the path to the Belt, today it is Daniel Cormier, before him it was Stipe Miocic and before him, it was Fabricio Werdum, before him Cain Velasquez and so forth.  That is why it is hard to say who can bring you the Belt. In theory, it is someone in the top three that I have to beat in order to get the opportunity to fight for the Title.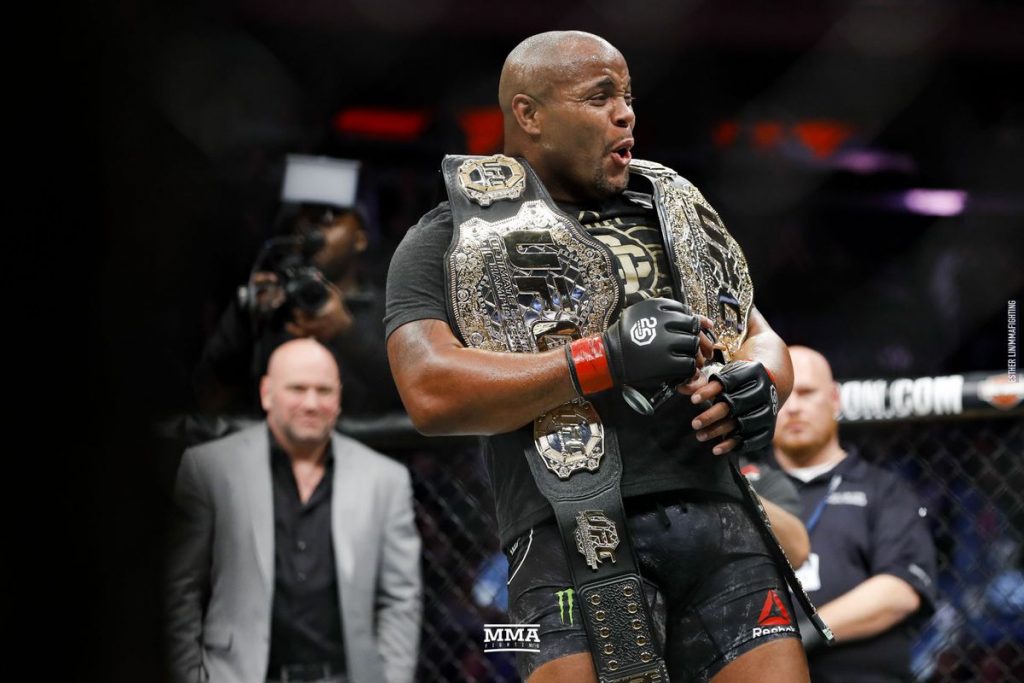 You have a higher education; how does that help you as a professional athlete?
Having a higher education is an advantage because it helps intellect which in the ring is very important. A fight is all about intellect. It is not about whose muscles are bigger, not the person with wider biceps/triceps, or bigger back and chest, etc. There are times when a smaller fighter wins over a larger one. This is made possible by intellect using strategy to defeat the opponent. Hence, the real battle is through intellect.
What is something you learn about life from your profession?
I believe that I am very calm and balanced in everyday life due to my profession. In some ways fighting liberates you. It melts away negativity, emptiness and any other unnecessary feelings that are a part of life. From training and fighting, you feel complete, concentrated, calm and you carry yourself this way into the world. You gain an appreciation for the things in life that really matter and to brush off any insignificant matters that really have no bearing on anything. As a rule, people and relationships are the most important things in life. These are friends, relatives, close friends, family and so on.
Do you do charity work and do you feel it is important?
I do charity work but as they say in Russian, 'If you speak too much about the charity work that you do; whom you are helping and what you are giving, then it already isn't charity work'. It becomes PR if you give your money, your time, your attention in hopes of some kind of loyalty. That is why I don't boast about it but rather quietly bring good into this world. I try to help those around me. Of course, we visit orphanages, shelters and bring some kind of goods and sports products with us when we visit these places. We hold sporting events for kids, master class sessions for teenagers, and much more. Also, I answer questions daily from people such as, 'How to act in a given situation? How to apply some technique? How to gain weight? How to be more mentally and physically healthy? and much more.' I try to help in many different ways.
Outside of fighting what are your favorite activities and how do you like to spend your time?
Honestly, I don't have enough time to pursue any hobbies or other things outside of my profession. That is why in my free time I just try to rest or do something relaxing like go fishing for example. I love nature. That is where I can really be calm and relaxed. In nature, you can get in touch with your spirit and rest it from the demands and noise from everyday life. Any other time outside of work goes towards my family and kids. As in many professional sports, the career of a professional athlete doesn't allow for much time with family. That is why I try to enjoy and appreciate quality time with them as much as possible.
You recently supported Russian Heritage Night in the NHL, why is such a cause important and why is it important as a sportsman to support other sports and athletes and Russian community?
Firstly, I think that any sport has to be supported. Secondly, if our Russian athletes are competing then it is my desire to support and encourage them. Such events like Russian Heritage Night brings the community together and celebrates the sport, athletes, and culture. It is important to support Russia, Russian, Slavic, Belorussian, Ukrainian culture, athletes and people. It doesn't cost anything to cheer the athletes on and it is right and good to do so. The athletes appreciate this.
Do you interact with your Russian peers in the UFC like Fedor Emelianenko and Khabib Nurmagomedov?
I don't really communicate with Emelianenko or Khabib, only when we meet somewhere. I communicate more with other guys like Sergei Kharitonov, Dmitriy Sosnovskiy and Andrei Arlovski (pictured here).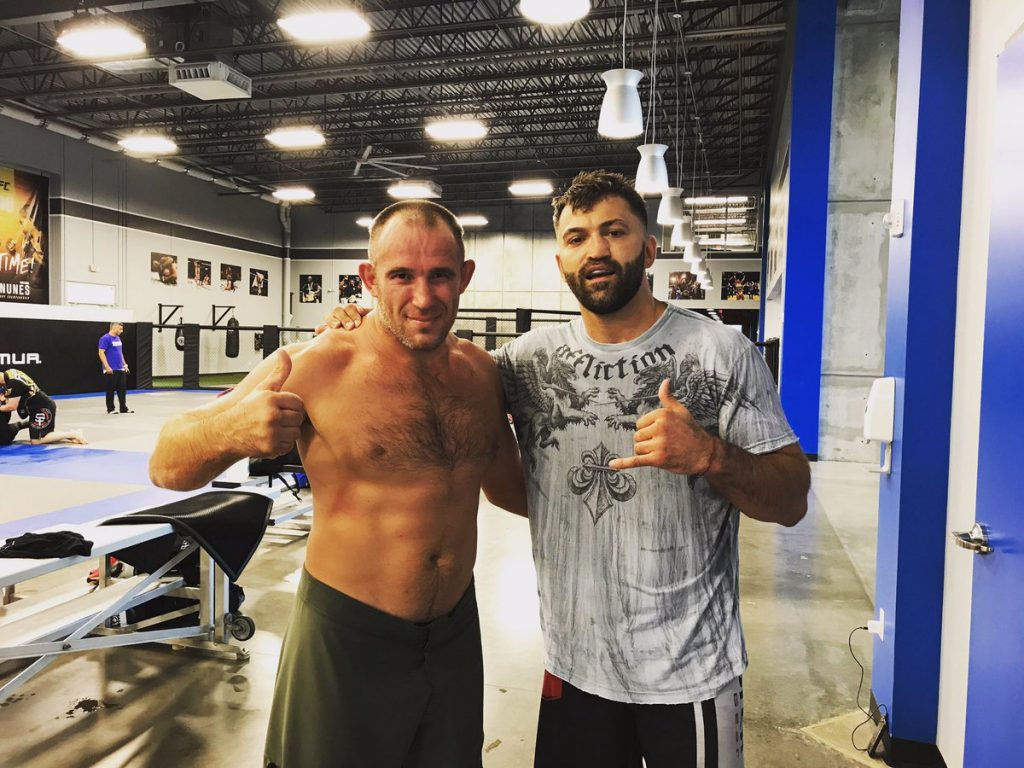 What is the legacy you want to create for yourself?
I have to continue to work to some logical conclusion of my career. God willing there is still new heights to achieve. Ultimately, I think I have proven myself enough. I have shown new moves to the top league in the world and beat top-ranked opponents in never before seen fashion with the Ezekiel choke. This is why I think I have already created a legacy for myself. However, I feel there is more legacy I can create. I hope that in the future there are more amazing moments to be had. Lord willing.
Special thank you to Evgenia Stroganova, Maria Ushakova and Jordan Mamann for your contributions to this piece.