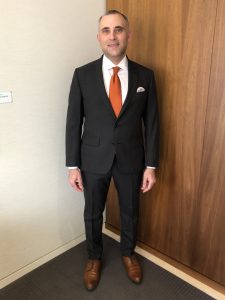 The suit of the week belongs to Mark Rasile from Bennett Jones in Toronto. Mark is sporting his new Tokyo line grey pinstripe suit from LGFG FASHION HOUSE.
Dressing sharp commands respect and is crucial in the world of business, where impressions make all the difference.
This concept is not new and dates back centuries.
There is a saying, "Appearances count for a lot." A similar expression was current among the ancient Greeks: "The garment maketh the man." In the form, "Apparel makes the man" the idea turned up in England as early as the 16th century. A century later it was sometimes put as, "The tailor makes the man."
Mark's LGFG Executive Clothier is Aiva Sharakovsky.